2 Inch Leveling Kit | Chevy / GMC 1500 (19-23)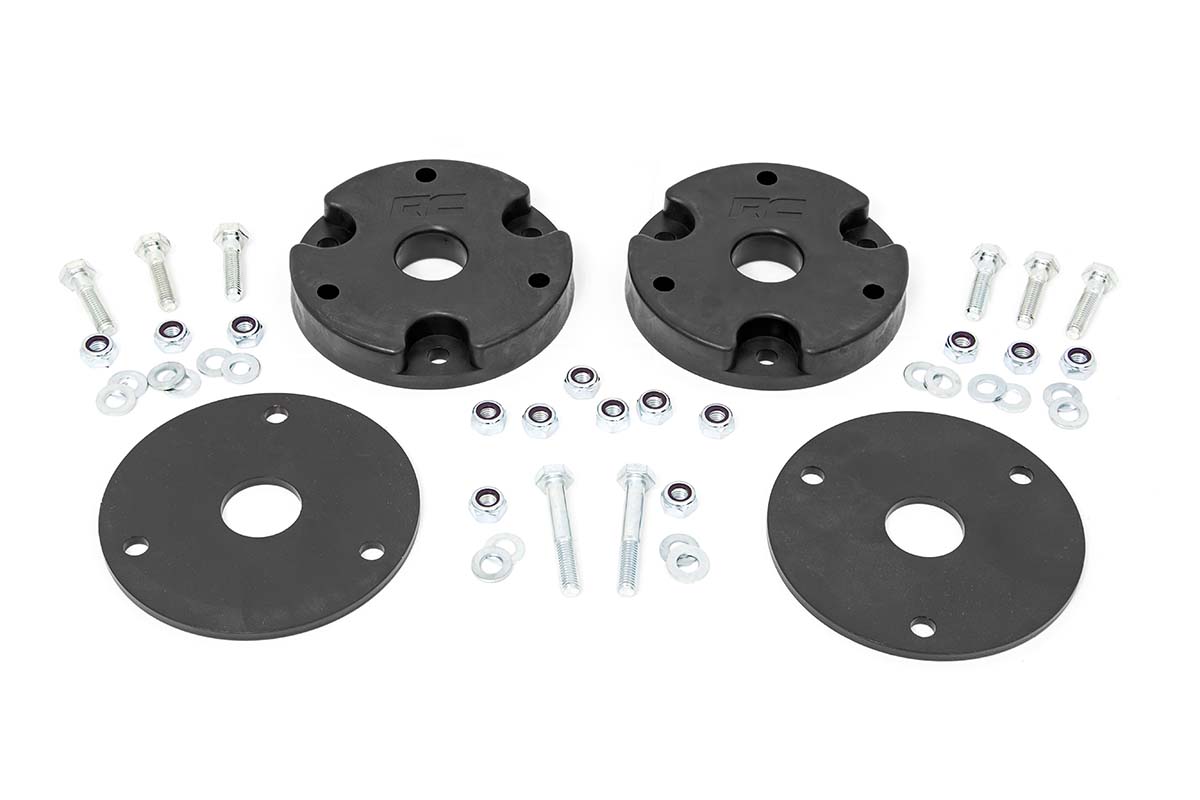 Appuyer et déplacer pour zoomer
Passer en survol l'image pour zoomer
2 Inch Leveling Kit | Chevy / GMC 1500 (19-23)
Code de produit : RA11323..............
OVERVIEW
Level your Chevy Silverado or GMC Sierra 1500 from front to rear while giving your truck a more aggressive look with Rough Country's 2-inch Leveling Kit! GM trucks come with a factory rake, leaving the rear much higher than the front. This simple solution raises the front to match the height of the rear, providing a more aggressive appearance and enough increased ride height to run larger tires and wheels.
Don't limit your new truck! Rough Country's GM 1500 Leveling Kit features an upper-strut spacer design which is designed to improve CV boot clearance compared to bottom mount spacers. This design offers better clearance for off-road driving so you can tackle uneven terrain with greater peace of mind. Best of all, Rough Country's 2-Inch Leveling Kit is designed to retain your vehicle's smooth, factory ride quality.
Give your Silverado or Sierra 1500 the aggressive look it deserves with a Rough Country leveling kit. Includes a Lifetime Replacement Guarantee!
Features
Increased ground clearance.
Levels the front with the rear of the vehicle.
Promotes better CV angles for off-road driving.
Maintains factory ride quality.
Includes bolt retention plates for easier installation.
Notes
Does NOT fit Chevy Trail Boss models.
Does NOT fit GMC AT4 models.
Does NOT fit Adaptive Ride Control models.
Does NOT fit LD models.
Does NOT fit models equipped with Super Cruise.
Install Time
2 - 3 hours
58,95$ CAD
Prix de détail: 58,95$ CAD
2019-2023 2WD Chevy Silverado 1500
2019-2023 4WD Chevy Silverado 1500
2019-2023 2WD GMC Sierra 1500
2019-2023 4WD GMC Sierra 1500
285/55R20 Factory 20 6x5.5
295/55R20 20x9 6x5.5 +0 Minor Trimming
285/55R20 20x9 6x5.5 +0
295/55R20 20x9 6x5.5 +1 Minor Trimming
285/55R20 20x9 6x5.5 +1
285/55R20 20x9 6x5.5 +18
285/55R20 20x9 6x5.5 +20
Front:
(2) Upper Strut Spacers
(2) Bolt Retention Plates
Hardware

Rear: